COVID-19 Health and Safety
Historic Site Open Wednesday-Monday
More info about COVID-19 Health and Safety
Skip remaining navigation
What to Expect
We are implementing the following measures to ensure a safe and enjoyable experience for everyone.
Ford's Theatre Society staff adhere to a vaccination and testing policy.
All visitors age 3+ must wear a face covering over their mouth and nose during all daytime visits and performances.
Our staff will clean continuously throughout the day and give extra attention to high-touch areas and restrooms.
For improved air quality, Ford's has upgraded the theatre HVAC systems with MERV13 filters per CDC recommendation.
We will have low-contact check-in when you arrive on site. Interactive touch screens will be turned off.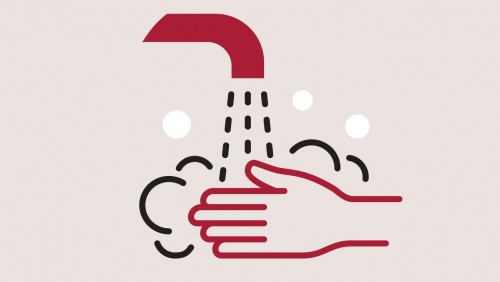 We've installed additional sanitizing stations throughout the site as well as signs about proper hygiene.
For the health and safety of yourself and others, stay home if you are ill. Visitors showing signs of illness at any time will be asked to return at a later date.
Wellness Checks for Staff
All employees and volunteers are screened for symptoms of COVID-19 before reporting to work. Employees and volunteers exhibiting indication of illness upon their arrival or during their shift will be asked to go home and remain in quarantine.
Visit the Historic Site
During our current phase of reopening, only the museum and theatre are open; the Petersen House and Aftermath Exhibits remain closed. Advance tickets are required. The museum and theatre are open Wednesday-Sunday. In addition to the protocols listed above, additional measures are in place during daytime visitation. Proof of vaccination is not required for daytime visitation.
Choose Your Date and Time
You must reserve tickets online or via phone in advance for a specific entry date and time. We are operating at limited capacity. Groups of 10+ should contact groups@fords.org. Tickets through October are now on sale.
In areas where social distancing is not possible, you'll follow a one-way path through the site. This will minimize face-to-face passing.
You must stay at least six feet away from other visitors in other parties and from our staff at all times. We're limiting total capacity for entries to help visitors keep their distance. On site, markings and signs will assist visitors with this effort.
Closed for Now
Petersen House
To limit crowding and queuing, the Petersen House will remain closed during the first phase of our reopening. Visitors can download "Voices of Petersen House," a free virtual reality time travel experience.
Aftermath Exhibits
To limit crowding and queuing, the Aftermath Exhibits will remain closed during the first phase of our reopening.
Plan Your Visit
Links to help you plan your visit.
COVID19-Related Updates
All staff are fully vaccinated. Staff wear masks, disinfect their hands regularly and maintain a six-foot distance from visitors to ensure a safe and enjoyable visit for everyone.
An inherent risk of exposure to COVID-19 exists in any public place where people are present. COVID-19 is an extremely contagious disease that can lead to severe illness and death. By visiting Ford's Theatre, you voluntarily assume all risks related to exposure to COVID-19. We expect visitors to comply with all safety protocols, and we reserve the right to refuse entry or service if protocols are not followed.
The local DC Contact Trace Force has recommended that all businesses maintain a record of individuals in the building for 30 days after their visit. This is to assist their team in contacting anyone who may have been exposed to an individual found to have COVID-19. When purchasing your ticket, you will be asked to supply a name, phone number and email address for one adult in your party. If requested by the local contact tracing team, this information will be provided to the D.C. government. Ford's Theatre will otherwise never distribute, publish or sell your information.
Ford's Theatre COVID-19 guidance is developed in collaboration with the George Washington University Medical Faculty Associates (GW MFA). As one of the largest physician groups in the Washington, D.C., metropolitan area, GW MFA is recognized for excellence in clinical care, research and training of future care providers. The advice and expertise of the medical staff at the GW MFA, which is based on data and guidelines from the Centers for Disease Control and Prevention, has helped us to strengthen our safety procedures so we can better serve and protect our patrons, artists and staff.