Ten Years of Giving Back to the D.C. Community: The Ford's Theatre "A Christmas Carol" Donation Drive
Skip remaining navigation
One favorite tradition in my 10 years working for Ford's is watching how our staff, crew, cast and audiences make an impact in our D.C. community through a special donation drive during A Christmas Carol. Every holiday season, the company of A Christmas Carol votes to support a different non-profit that serves the homeless, hungry and impoverished. At the end of the performance run, the raised funds go directly to the selected charity.
Since 2009, we have raised an incredible $735,000 for local non-profits with these curtain call collections. And counting! I love how this tradition brings to life the themes of goodwill, generosity and benevolence found in Dickens's 175-year-old play. This year, join us in celebrating the good work of The Homeless Children's Playtime Project by giving at our performances through December 30, 2018.
But first, let's reflect on how these simple efforts have made a very meaningful difference in the lives of the thousands living in need within our immediate community.
The first year of the donation drive, 2009, Ford's partnered with Bread for the City and raised more than $50,000, which helped the non-profit provide 1,846 meals to D.C. families.
When we partnered with So Others Might Eat (SOME) in fall 2010, government reports showed D.C. had 6,000 homeless residents with 110,000 children living in poverty.
SOME President Fr. John Adams reported that the funds raised would "help SOME to continue to provide 1,000 daily meals, clothing, medical care and other services to the poor and homeless in Washington."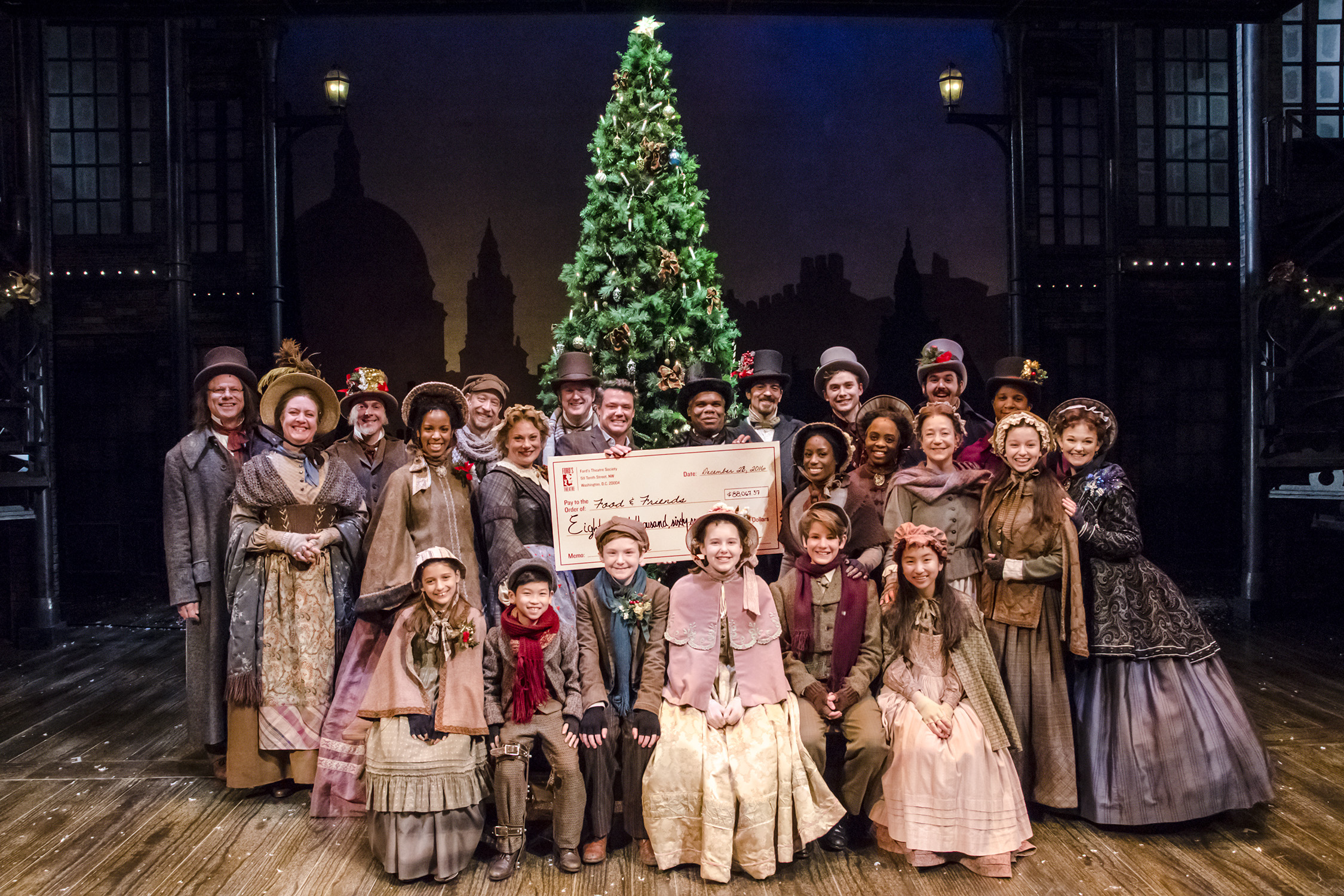 In 2016, funds raised through Ford's performances made it possible for Food & Friends to provide specialized nutrition and meal delivery services to their clients who confront life-challenging illnesses. Food & Friends Executive Director Craig Shniderman wrote to us that year saying, "Seeing the talented cast raise money and share the mission of Food & Friends from the stage has been a highlight of the year. We are incredibly grateful and honored to receive this generous support from Ford's Theatre Society and the broader community."
Our cast finds this tradition especially meaningful:
"When the ghost of Jacob Marley visits Ebenezer Scrooge, Marley pleads, 'Mankind was my business. The common welfare was my business; charity, mercy, forbearance, and benevolence were, all, my business.' Scrooge has gone too long shutting the world out and living with indifference. Scrooge's transformation reminds us that it never too late to feel compassion for others. Just by hearing this warning we remember the places in our own lives where we can be more considerate toward others." – Craig Wallace, Ebenezer Scrooge in the Ford's Theatre production
"This exchange is the beginning of the Redemption of Ebenezer Scrooge and the story. Scrooge's nephew's idea that we should all 'think of people below us as fellow passengers to the grave, and not another race of creatures bound on other journeys' is as relevant today as it was in 1843. It is an honor and a privilege to share this inspiring story with our audiences at Ford's Theatre every holiday season and to also offer them the gift of giving to a worthy local charity. – Stephen F. Schmidt, Jacob Marley in the Ford's Theatre production
This past season (2017) Ford's raised more than $96,000 for House of Ruth. House of Ruth Executive Director Sandra Jackson reminds us, "The holiday season is a time of great celebration and enormous need. The women and children survivors of homelessness and domestic violence at House of Ruth are deeply grateful for the generosity of the cast, crew and audiences of Ford's Theatre. You are changing hundreds of lives and bringing A Christmas Carol to life."
Join us in giving back this holiday season. To quote Tiny Tim, "God Bless Us, Every one!"
Lauren Beyea is Associate Director of Communications and Marketing at Ford's Theatre, where she oversees media relations. She is editor of the Ford's Theatre Blog. Follow her on Twitter @LaurenBeyea.